We have added a new feature to plan2gether where you can set dates that you are not available.
Add your holiday dates or any dates you are unavailable and plan2gether will not add you to future rotas for these dates.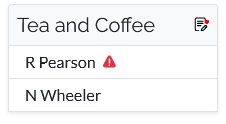 If you have already been assigned to the rota for these dates a red triangle will appear beside your display name. (this example uses fictitious people)
Find out how to set availablity in this article https://plan2gether.com/support/setting-availability/
Watch this video for more help.