SMS text messages can be sent to people who have mobile phone numbers to remind them they are on the rota. The "cost" of each text message is 1 credit. Credits can be purchased in the Organisation screen by the admin.
The organisation will get 50 free SMS Credits when they first take out a subscription to plan2gether.
This is what the organisation admin has access to: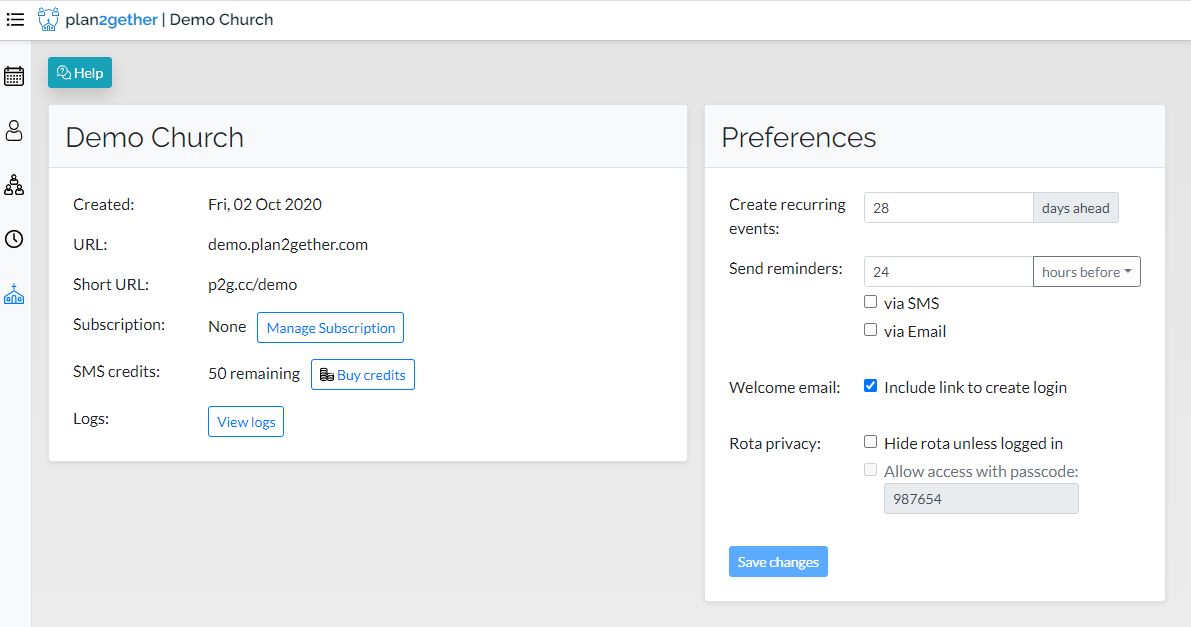 From Church panel the admin can:
View the balance of SMS Credits
Purchase SMS Credits
From the Preferences panel the admin can:
Set a time for sending notifications – this can be in hours or days before the event is due to take place. So for example, if the Sunday service is at 11:00 and the reminder is set for 3 days – at 11:00 on Thursday people on the rota for that service will receive a notification. This is a global setting and applies to all events unless a notification time is set for a specific event.
Set whether notifications are sent by email or SMS text or both. Emails have no cost. SMS messages are 1 Credit per message.
The SMS message is sent to the phone number stored in the person's profile.
Note: To save characters in the SMS message the short URL for the organisation is used. For example "demo.plan2gether.com" would be "p2g.cc/demo". The short URL is displayed in the organisation screen.
Example of an SMS text Notification: