The Welcome email is used to communicate with a person when they have been added to plan2gether. They must have an email address to receive the Welcome message!
The Welcome email is sent:
If the option is selected, when people are imported from a CSV file
By selecting the person in the people screen and clicking the Send Welcome email button. An admin can make a person a user at any time with this method, provided the correct option has been set in Organisation Settings (see below)
Becoming a User:
If the admin has selected (in Organisation Settings) the option of a signup link in the Welcome email, this email allows anyone receiving it to become a User by clicking the link in the email. They will be asked to create a password. Their Username will be their email address (the one the Welcome email was sent to).
A user has a login to the organisation. They can set their availability, and edit the people in a rota for the roles they belong to, for example to do "swaps". Users will not see a person's email address or phone number or have access to any other parts of plan2gether.
A person must be a user first before they can become a team manager or organisation admin.
Rota Privacy:
If Rota privacy has been set using a passcode, then the passcode will be included in the Welcome email.
Sample Welcome emails
No rota privacy and with rota privacy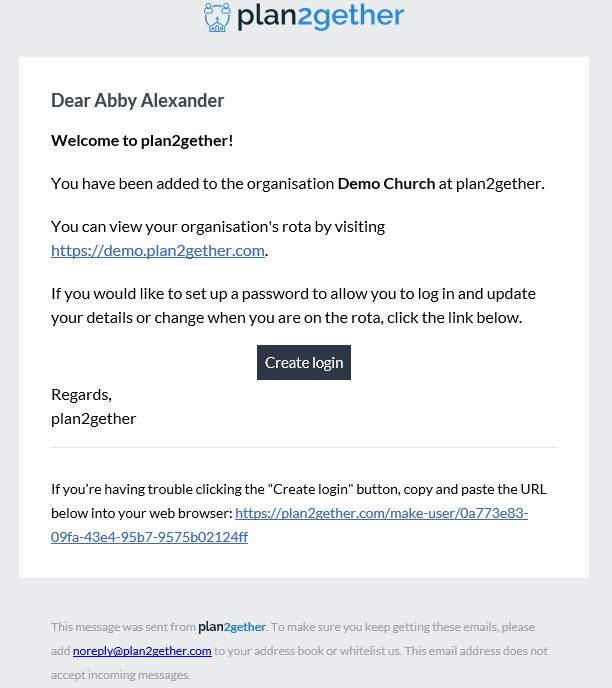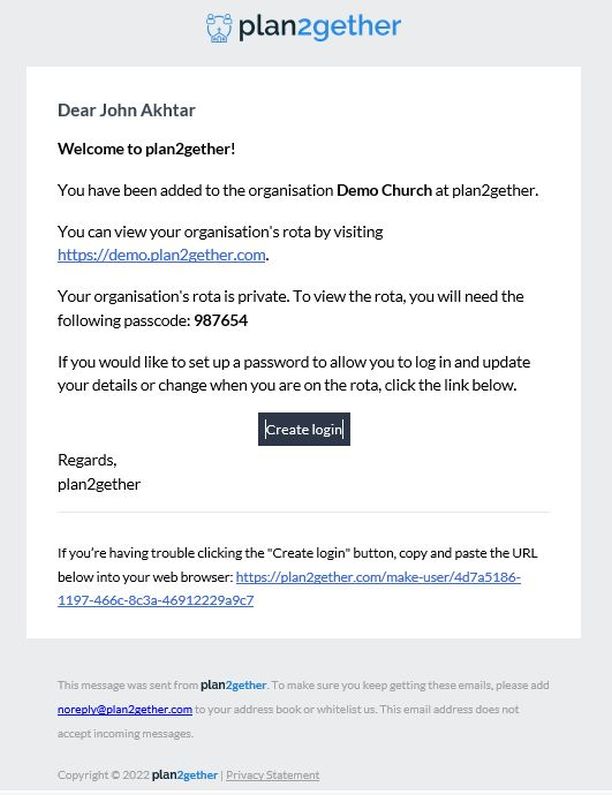 Becoming a User in another organisation
If a person already has a login to plan2gether (they are a user) and that person is added to another organisation where they are to be a user in that organisation, they will receive a slightly different Welcome email. This assumes they are using the same email address for both organisations.
The person must click the link in the Welcome email to associate themselves with the new organisation – see the section of the email in the red box. When they log in to plan2gether.com their profile will show all the organisations they have access to.